Being a role player in the NBA isn't sexy, but it's an absolute necessity in today's NBA. Teams are getting smarter and smarter about putting guys on the floor that know their role and do their job every game without eating up too many possessions. Role players compliment team's best players on both ends of the floor and often go unnoticed. Well, at least by most people.
Zach Lowe of ESPN annually chooses his Luke Walton All-Stars, which is essentially a list of the best role players around the league. This year, his list included the likes of Marvin Williams, Evan Turner and Lance Moore, among others. One player who was left off the list has done more than enough to make the cut- the Chicago Bulls' seldom-talked-about E'Twaun Moore.
The Bulls have stunk lately, dropping seven of their last nine games before the All-Star break, but Moore has little to do with Chicago's struggles. He's contributed much more to the Bulls than anyone expected before the season. Frankly, he's doing some things few players around the league can match:
Per Basketball-Reference, Moore is one of only four players in the league shooting at least 49 percent on two-pointers and 43 percent on three-pointers (min. 25 three-pointers made and 700 minutes played). It should be noted that he's played half the minutes of the players in front of him, but the accomplishment is still impressive. Moore is able to convert at such a high rate because he refuses to take bad shots and can shoot from anywhere on the floor:
E'Twaun Moore 2015-16 Shotchart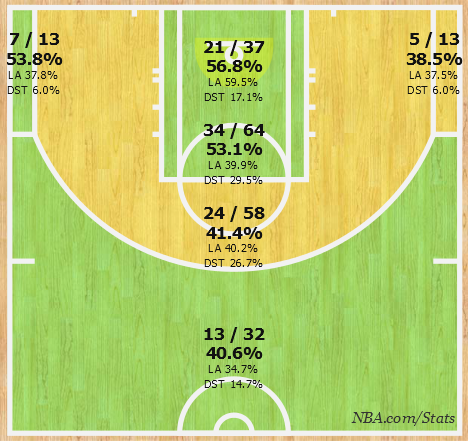 Moore is shooting above league-average in every shooting zone this season. He's lighting it up from beyond the arc, knocking down 46 percent of his three-pointers from the corners and a well above-average 40.6 percent of his shots above the break. Moore has a consistent set shot and is dangerous when his feet are set:
Here's Moore's game-winner against the Thunder last season. He catches the ball in stride, squares his body to the basket, and drains the tough shot over Russell Westbrook's outstretched hand. He has an effective field-goal percentage of 58.9 percent on catch and shoots, which ranks second on the team according to SportVu. All but three of his three-pointers have been assisted, but Moore is capable of creating his own looks as well.
He's an above-average ball-handler thanks to his tight handles and ability to take advantage of space. He excels at blowing past eager defenders and driving to the cup to utilize his gorgeous floater:
That floater is bringing back memories of Ben Gordon in Chicago. Moore notices Rudy Gay overplay him and blows by him to toss up an easy tear drop. Moore is shooting 14-for-22 (63.6 percent) on floaters this season, helping boost his field-goal percentage in the paint non-restricted area to an above-average mark of 53.1 percent (league average is 39.9 percent). Given his shooting acumen, his field-goal percentage at the rim of 56.8 percent isn't too shabby, either. Moore's ability to stretch the floor while still being a crafty inside scorer is an asset to any team. His hustle on the defensive end is also encouraging.
Moore is 6-foot-4 and generously listed at 191 pounds, but he is a pest on the defensive end. He fights through screens as hard as any player in the league and tries to stay attached to his man at all costs. He rarely loses focus defensively and excels at guarding smaller, quicker players.
The results aren't exactly stellar for Moore, who's DRPM sits at -0.27, but he's often miscast as a small forward and has poor defenders around him at times. He also tends to over hustle, which can lead to him getting beat back door, missing a defensive assignment, or switching at inappropriate times. He struggles against bigger opponents who use their size to power through his defensive effort. Considering the Bulls lack of intensity defensively this season, it's refreshing to at least see Moore committed on that end.
The main areas of improvement for the Purdue product moving forward is Moore's lack of playmaking and poor free-throw shooting. Moore has solid size for the point guard position but is undersized as a shooting guard. Unfortunately for the Bulls, he lacks the vision and penetration skills to consistently set up teammates as a point guard. As a shooting guard, his 4.1 rebounds per 40 minutes are disappointing. As is his puzzling 57.1 percent free-throw percentage, though on just 28 attempts because Moore seldom draws fouls.
Nonetheless, Moore's stretch as a starter amid a plethora of injuries for the Bulls has earned him a solid payday as a free agent this summer. He's averaging 12.8 points, 3.5 rebounds, 3.0 assists, one steal and 0.7 blocks per game while shooting 47.1 percent from the floor and a sizzling 52.4 behind the arc (on 1.8 makes a game) in his six games played in February.
He wasn't expected to be more than an emergency backup off the bench this season, but Moore has blossomed into a crafty, hustling sniper who is capable of playing both backcourt positions.
Moore has been a bright spot in an otherwise disappointing Bulls season, but his serious strides as of late may have made him too pricey for the Bulls this summer.