The Atlanta Hawks had a difficult decision to make last summer. Due to the complicated nature of the NBA's salary cap, they could only realistically keep one of Paul Millsap and DeMarre Carroll, both of whom had been significant contributors to the team's 60 wins. The team chose to pay Millsap $60 million over three years (with a player option on the last year), which created a vacancy in the starting lineup next to Kyle Korver. Insert Kent Bazemore, who, up until this season, was best-known for being one of the most entertaining bench celebrators in the league:
Unfortunately for Bazemore, at the time, he wasn't known for much else. He had the reputation as a shooter, yet had only connected on 34 percent of his three-point attempts. Often, free throw percentage can be a good predictor of a player's shooting ability for various reasons, but he had made less than 61 percent of his tries from the charity stripe.
But much like Carroll, Millsap, Dennis Schroeder and several others before him, the Hawks' system did wonders for Bazemore's game this season, and probably on his future earnings (he's set to be a free agent next summer with the majority of teams having plenty of cap space available).
Bazemore isn't known for having the most well-rounded game, but he's one of three players averaging more than 12 points, four rebounds and two assists while playing fewer than 30 minutes per game. While it's not the best measure of a player's ability — most players with that ability will play more than 30 minutes — there is evidence to suggest he's more versatile than originally thought.
As a shooter, Bazemore is finally showing his ability. After being an average — or sometimes below average — three-point shooter for most of his career, he's connecting on over 42 percent of his threes while averaging almost four per game. There are only 15 players averaging at least 3.8 threes per game while connecting on over 40 percent of them, and Bazemore has the sixth-highest true-shooting percentage among them.
More specifically, much of Bazemore's value with the Hawks lies in his catch-and-shoot ability. Bazemore has scored 1.24 points per possession (PPP) this season in catch-and-shoot situations, a number that puts him in the 95th percentile in the league, per NBA.com.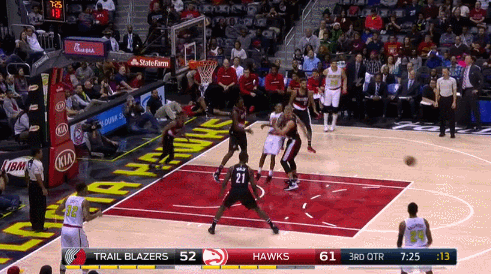 Much like Carroll last season, Bazemore is the beneficiary of the Hawks' ball movement and is rewarded with open attempts, but he's also making small adjustments without the ball to get those open shots.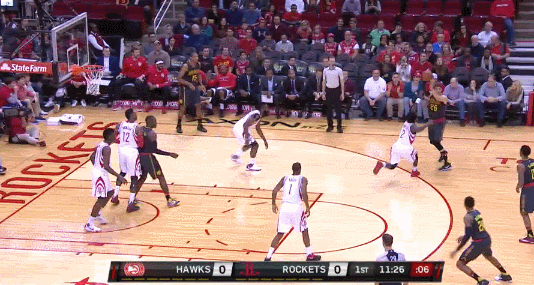 Before Kyle Korver passes to Jeff Teague at the top of the key, Bazemore shuffles down to the slot to create a more open look, which moves him away from Trevor Ariza forces the Rockets' big man (Clint Capela) to close out to him.
Bazemore makes many of these small movements, which is partly the reason his offensive rating is 109, per basketball-reference.com, which is similar to the Hawks' offensive rating last season.
Another reason for Bazemore's offensive efficiency is his ability on the drive. After the Hawks two main ball-handlers (Teague and Dennis Schroder), Bazemore averages more drives per game than anyone else on the team at just under five. When Bazemore decides to drive, there is a strong possibility that he decides to shoot, and he does that efficiently.
Bazemore averages 2.7 shot attempts and 1.2 free throw attempts on his drives per game, but the combination of his percentages (49.4 and 91.7 percent on the drive, respectively) and his extremely low turnover rate (4.8 percent, the lowest on the team among those that average at least one drive per game) make Bazemore an extremely efficient option off the drive.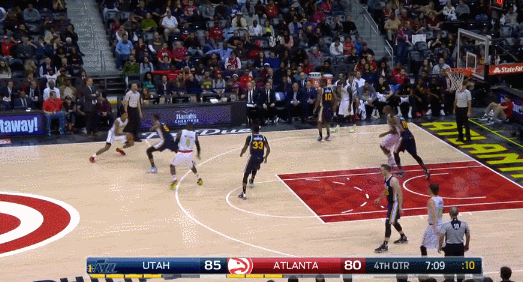 With Rodney Hood forcing Bazemore to the baseline on a drive, he attacks Trevor Booker in the pick-and-roll before finishing with a nice move at the rim. While Bazemore doesn't have the tightest handle in the league, he uses his incredible wingspan (6-foot-11) to finish over the big men at the rim.
The Raptors signed Carroll to a large contract due to his ability to play on both ends of the court. Carroll became an elite shooter at the end of his tenure in Atlanta, but he was always a fantastic defender. Bazemore doesn't have the defensive ability that Carroll has, but he isn't hurting the Hawks on that end.
The Hawks normally play defensive specialist Thabo Sefolosha when the opposition has a dynamic scorer on the wing, but Bazemore traditionally starts the game defending the opposition's best scorer. There isn't a singular defensive statistic that's a good indicator of defense, but most statistics point to Bazemore being at least a positive defender*. With a positive Defensive Box Plus/Minus (DBPM), defensive win shares and a higher than average steal percentage, it seems as though Bazemore is filling the void Carroll left admirably.
In Bazemore's first real opportunity, he's outperforming most of the expectations set before him as the season began. Considering his production and measurements (his wingspan is elite for a player of his height), his $2 million salary is a steal for the Hawks. But much like the player he replaced, he'll be a free agent at the end of the season, hoping to reap the benefits of a sudden influx of money.
*ESPN.com's RPM is one of the few statistics that put Bazemore below average, but it's also the statistic that rates Russell Westbrook as a very good defender so I have my doubts.