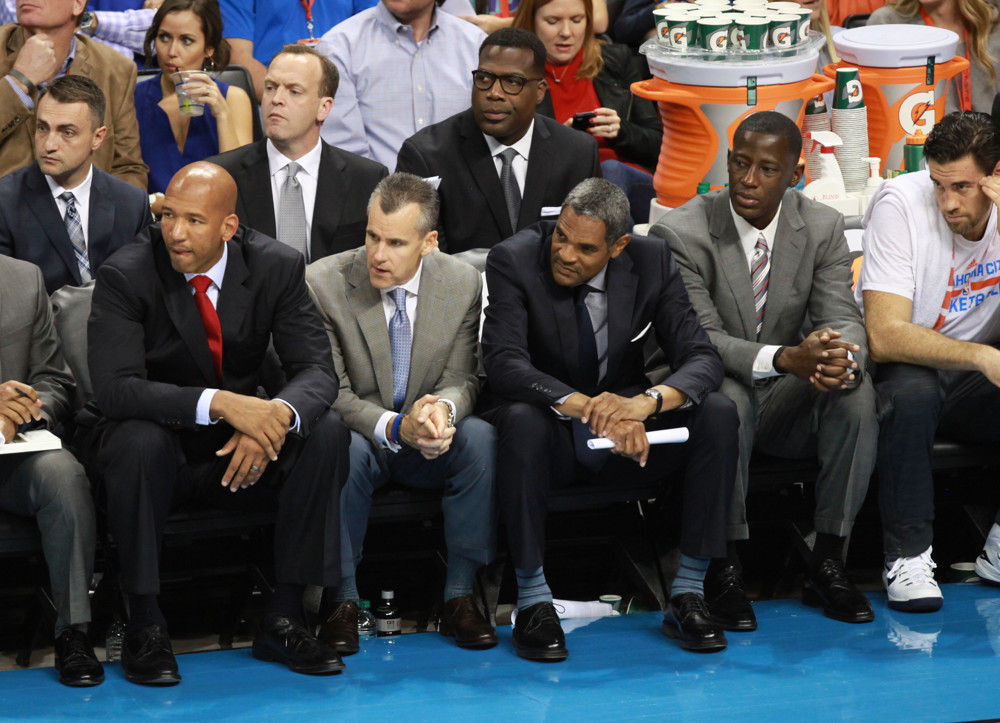 The day after Ingrid Williams, wife of Oklahoma City Thunder assistant coach Monty Williams, passed away in a car accident, players and coaches from around the league joined Coach Williams in grieving Ingrid's loss.
In a press conference this morning, Kevin Durant was still visibly shaken by the news:
An emotional Kevin Durant talks today following the tragic death of Ingrid Williams: pic.twitter.com/fk4PWObk7o

— Royce Young (@royceyoung) February 11, 2016
Thunder head coach Billy Donovan also spoke on the depth of the relationship between him and Williams:
Billy Donovan: pic.twitter.com/RKBsj0Lf9e

— Royce Young (@royceyoung) February 11, 2016
Anthony Morrow also spoke of his admiration for the Williams family after spending multiple years playing for the coach:
Anthony Morrow, who also played for Monty Williams in New Orleans, on Ingrid: pic.twitter.com/9DpHBrNnj1

— Royce Young (@royceyoung) February 11, 2016
People from around the league, not just on the Thunder, also grieved the loss of Ingrid. Anthony Davis, who was coached by Williams for the first three years of his career, took to Twitter to share his condolences:
Completely devastated. Ingrid Williams was like a 2nd mother to me when I got to NOLA. My thoughts & prayers are with Monty & the family

— Anthony Davis (@AntDavis23) February 11, 2016
Eric Gordon, who also played extensively under Williams in New Orleans, voiced a similar sentiment:
Saddened to hear about the passing of Ingrid Williams. Condolences to Coach Monty Williams and his entire family.

— Eric Gordon (@TheofficialEG10) February 11, 2016
ESPN news also reported that San Antonio Spurs coach Gregg Popovich was also grieving the accident, and had considered not coaching yesterday's Spurs game. Popovich worked with Williams as both a player and coach.
The Thunder play the Pelicans, Williams's old team, on Thursday night before the All-Star break.